And to help you find the perfect gift for everyone on your list, these are among our top Christmas gift ideas. Yes, ACLU, we still say Christmas Gifts.
Every sign and plaque from Atlas is custom so it is really time to order. We will create your gift and ship within 3 weeks. Allow time for shipping and get your order in now.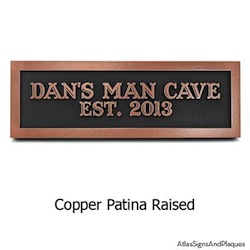 This is the first Christmas that Atlas has offered custom signs and plaques that you can Make Yourself. So if you have DIY in your blood or are a Crafter, this is the way to put your personal touch on gifts for everyone. So easy to accomplish using commonly available paints. You won't be able to stop once you start.
For the Big Guy; The Man Cave Sign.  What a great way to define his (or her) personal space.
For the Little Guy; The Boy Cave Plaque. With the message that girls are not allowed (except for Mom, of course) It is perfect for the younger set that likes cookies delivered on occasion.
For the Folks or Grandparents; The Carved Initials on a Heart Plaque celebrates that most important date.
For Office Friends; Thin Mints No Soliciting Sign allows for some latitude when keeping the pesky door knockers at bay.
New Parents; Add to their memories with the Personalized Baby Name Plaque.
For the Gardener; The Garden Scarecrow is almost too cute and really adds a lighthearted aspect to the art of pulling weeds.
An Animal Lover on your list?; The Dog or Cat Garden Plaque is sure to please. The one pictured at the top of the page started as one of our Uncoated Signs that are all set for you to customize as you desire. And, it is So Easy.
We believe in Christmas and supporting our friends and neighbors, so everything from Atlas Signs and Plaques is Made in the USA